Poland's finance minister and central bank chief pledged to provide liquidity for two lenders at the center of a corruption scandal as investors again sold battered bank stocks.
"We are ready to guarantee that these banks have and will maintain liquidity," Governor Adam Glapinski said on Monday. "Their clients are safe."
He spoke after the country's Financial Stability Committee (KSF) met late on Sunday and vowed to step in with "necessary actions to support banking-system stability." The WIGBank index of listed lenders declined 1 percent by 11:23 a.m. in Warsaw after a 4 percent slide on Friday, the biggest daily descent in more than two years. The benchmark WIG20 index dropped 0.4 percent.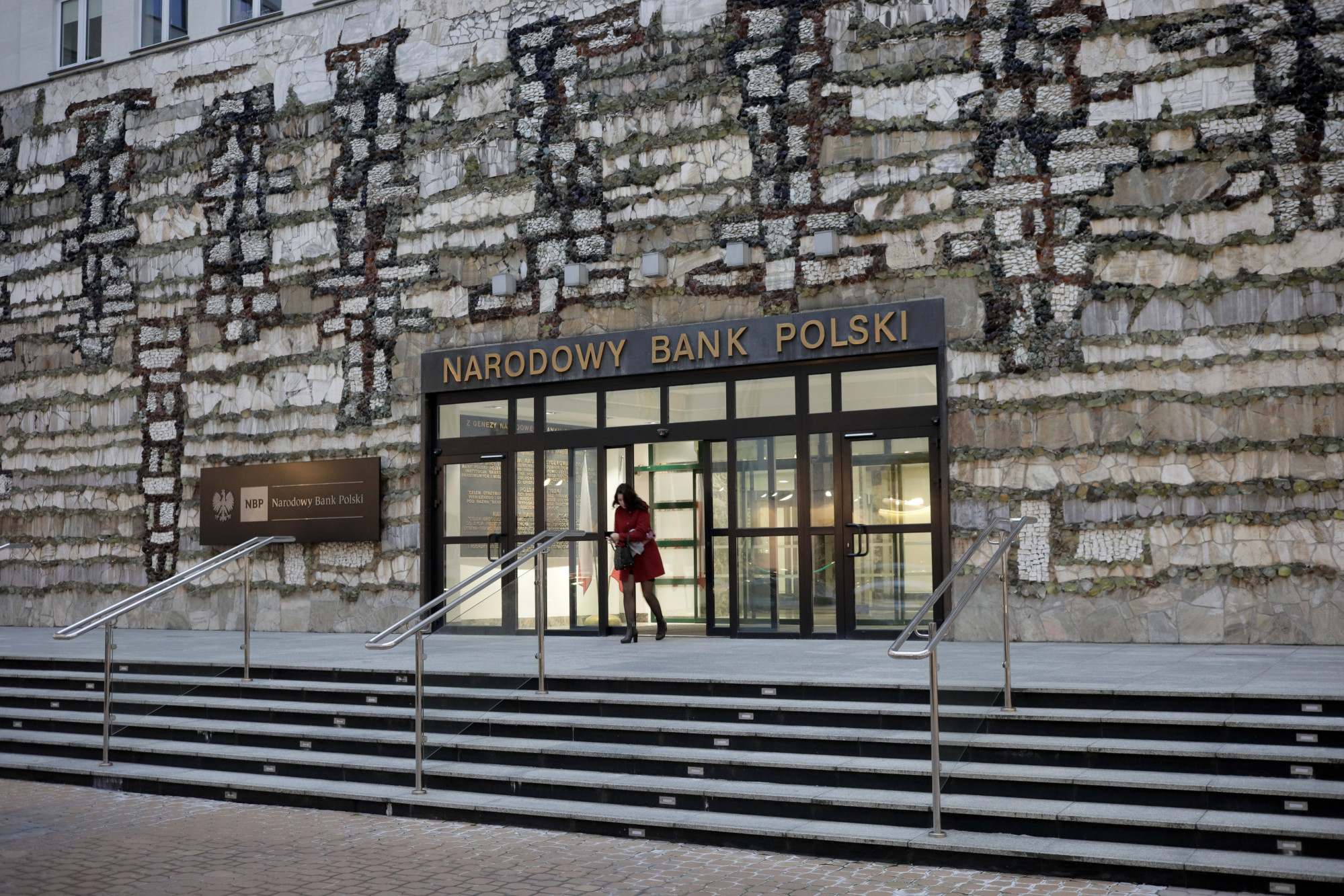 Poland's nationalist government and its allies in the central bank are struggling to contain the scandal, which broke last week when a newspaper published transcripts of recordings suggesting that the financial regulator solicited a bribe from Leszek Czarnecki, the owner of Getin Noble Bank SA and Idea Bank SA.
While the watchdog quit immediately, it's unclear who else may have been involved. In an editorial on Monday, the country's financial broadsheet Rzeczpospolita called for Glapinski to resign over the scandal. The governor himself went on the offensive on Sunday, accusing Czarnecki of trying to "destabilize" the country's banking industry.
Shares in Getin Noble dropped 12 percent to a record low of 0.29 zloty as of 11:04 a.m. in Warsaw, while Idea Bank was little changed. Both lenders, which are among the least capitalized among listed Polish banks, rely on short-term retail deposits for funding.
Stable System
"Some worrying information emerged about the possibility of financial problems and potential problems for clients of the banks which Mr. Czarnecki co-owns," Michal Dworczyk, head of the prime minister's chancellery, told Polsat News on Monday. He added the KSF's Sunday evening meeting was a sign that things are working well in the country and that the financial system is stable.
Czarnecki, who is testifying in the bribery case on Monday, told reporters that he hopes that the prosecutor will "thoroughly investigate the matter and find all people linked to it."
The KSF is chaired by the country's finance minister, central bank governor, chief financial regulator as well as the head of the Bank Guarantee Fund. Getin Noble had 46.8 billion zloty ($12.4 billion) of deposits as of end-June, while the smaller Idea — 20.7 billion zloty. Both lenders increased interest on some of their savings products, already one of the highest in the industry, in the wake of the scandal. Poland guarantees retail deposits up to an equivalent of 100,000 euro.
The zloty trailed emerging-market peers Monday as it weakened 0.2 percent to 4.3233 against the euro at 11:37 a.m. in Warsaw, the weakest level since Nov. 5.
["source=cnbc"]